Baby Crochet Sun Hat: A Perfect Accessory for Little Rays of Sunshine
Introduction:
The gentle rays of the sun kiss the world with warmth and light, bringing joy to our lives. And what better way to protect and adorn our little bundles of joy than with a baby crochet sun hat? This adorable accessory not only shields delicate baby skin from the sun's rays but also adds a touch of charm and cuteness to their ensembles. In this comprehensive guide, we'll explore the wonders of baby crochet sun hats, from their benefits to the creative possibilities they offer.
Benefits of Baby Crochet Sun Hats:
Sun Protection: As parents, safeguarding our little ones from the harmful effects of the sun is of utmost importance. A baby crochet sun hat with a wide brim offers excellent protection, shielding their delicate faces, ears, and necks from harmful UV rays.
Breathable Comfort: Unlike synthetic materials, crochet hats are crafted from soft, breathable yarn, providing optimal comfort for your baby's sensitive skin. The open stitching allows air circulation, preventing overheating during warm summer days.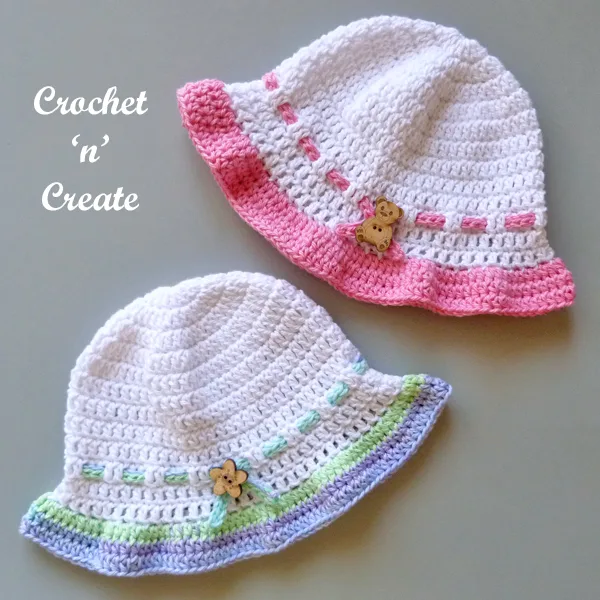 Style and Versatility: Baby crochet sun hats come in an array of designs, colors, and patterns, allowing you to find the perfect match for your little one's unique personality. Whether you prefer a classic bonnet style, a floppy denim, or a cute animal-inspired design, the options are endless.
Handmade with Love: One of the most wonderful aspects of crochet sun hats is that they can be lovingly handmade. Handcrafted gifts always carry a special sentiment, and knowing that you've created something unique for your baby adds an extra touch of love to their accessory collection.
Creative Possibilities:
Delightful Colors: Crocheting allows for an explosion of colors, making it easy to create vibrant and eye-catching sun hats for your little ones. Choose cheerful pastels, bold primaries, or a mix of shades to match their outfits or complement their natural charm.
Embellishments and Appliqués: Customize your baby's sun hat with adorable embellishments and appliqués. You can add delicate flowers, whimsical animal faces, or even playful fruit shapes. Let your creativity run wild and bring their hat to life with unique touches that reflect their individuality.
Textured Stitches: Crocheting offers a wide variety of stitches that can add texture and visual interest to the sun hat. Experiment with different techniques like popcorn stitches, bobbles, or shell stitches to create a hat that stands out from the crowd.
A baby crochet sun hat is not only a practical accessory for sun protection but also a charming addition to your little one's wardrobe. Its handmade nature and endless creative possibilities make it a truly special item that can be passed down through generations. So, grab your crochet hook, choose your favorite yarn, and embark on a delightful journey of creating a sun hat that will keep your baby safe, stylish, and full of sunshine.
If you like crochet like we do here at the Crochet Step by step blog, and would like to see even more options for other models, below we will leave you some more options:
Access the complete and free pattern / Baby Crochet Sun Hat
We wish all our dear readers an excellent week filled with a lot of positive energy in their homes, and especially a lot of creativity and good cheer to start another beautiful crochet project.
With lots of love and affection, Crochet Step by step!