Welcome to the Wonderful World of Christmas Crochet!
Hello crochet lover! If you're here, it's because you're ready to dive into a charming project and create your own crochet Christmas balls. Congratulations on your creative decision! This step-by-step guide was specially designed so that anyone, whether you are a beginner or an experienced crocheter, can enjoy the magic of making your own Christmas decorations.
Step 1: Choose the Thread and Needle
Before you start, choose a crochet yarn that brings you joy. It could be a sparkly yarn for a festive touch! Match it with a needle suitable for your chosen yarn. Remember, the fun starts with choosing the colors!
Step 2: Make a Magic Ring
Start with a magic ring. If you're new to this, don't worry, it's easier than it looks! Simply create a small adjustable circle and hold the yarn in place with a slipped stitch.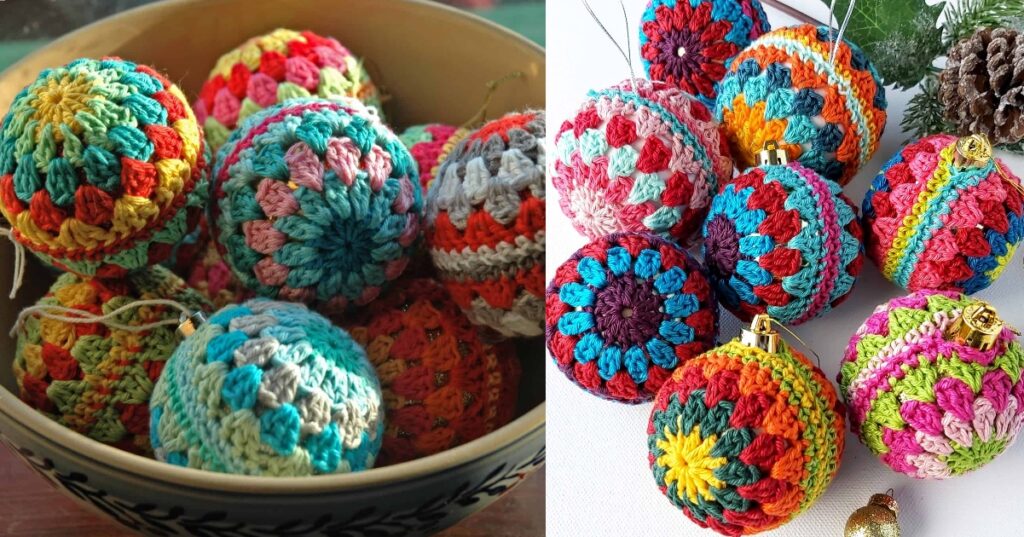 Step 3: Work the First Stitches
Now make a chain to start the rows. Follow with single crochets in the magic ring. Remember, we are building the base of our Christmas ball!
Step 4: Increase Shape and Charm
Continue to gradually increase the stitches around the ring. Feel free to play with textures and patterns, add stitches or other decorative stitches. Here, creativity is your guide!
Step 5: Color Your Ball
Change color as desired. You can create stripes, geometric patterns, or simply choose your favorite color palette to bring holiday cheer to your creation.
Step 6: Fill with Love and Softness
When your ball reaches the desired size, fill it with polyester batting. Don't skimp on love! Make sure your ball looks fluffy and cozy.
Step 7: Close with Perfection
Close the Christmas ball with an invisible stitch. This will add the perfect finishing touch, hiding any visible seams.
Step 8: Decorate with Charming Details
Now is the time to add special details! You can crochet little stars, flowers or simply tie a sparkly ribbon for an extra touch of magic.
Congratulations, You Created a Christmas Work of Art!
And voila! Your beautiful crochet Christmas ball is ready to light up your tree and delight everyone. Remember, every stitch is a step towards your own masterpiece. Have fun, experiment, and most of all, enjoy the process of creating something special with your own hands.
I hope this motivating guide has inspired you to start your project today. Happy Christmas crochet! 🎄
If you liked this handmade model with crochet threads, below we will leave some more model options from the most diverse crochet styles so that you can get inspired and nail down which crochet style you will start with:
Crochet: Reyes Magos Amigurumi  
Varios patrones de adornos navideños
Carita feliz de Papá Noel a crochet
Access the Free Crochet Pattern
We at the Step by step Crochet blog wish all our beloved readers a wonderful week, full of God's blessings in your homes, and of course, not least, lots of balls of yarn for crochet. A big hug to everyone, that's what we want. With love, Step by Step Crochet.