Have you ever imagined having a set of adorable coasters in the shape of a sunflower in your home, which not only protect your surfaces from stains and glass marks, but also add a touch of charm and warmth to your decor? Well, now it's possible! In this tutorial you will learn how to crochet a sunflower coaster in a simple and quick way. Don't worry if you've never crocheted before, this project is perfect for beginners. Let's start!
Necessary materials:
Cotton thread in two colors: yellow for the petals and green for the base.
Crochet hook, size compatible with the yarn chosen.
Scissors.
Tapestry needle to hide the ends of the yarn.
Step by step:
Make the magic ring:
To start your sunflower, make a magic ring using yellow yarn. To do this, loop the yarn around your index and middle fingers, forming a circle. Pass the hook under the front thread and pull the back thread through the circle. Now you have a tight ring.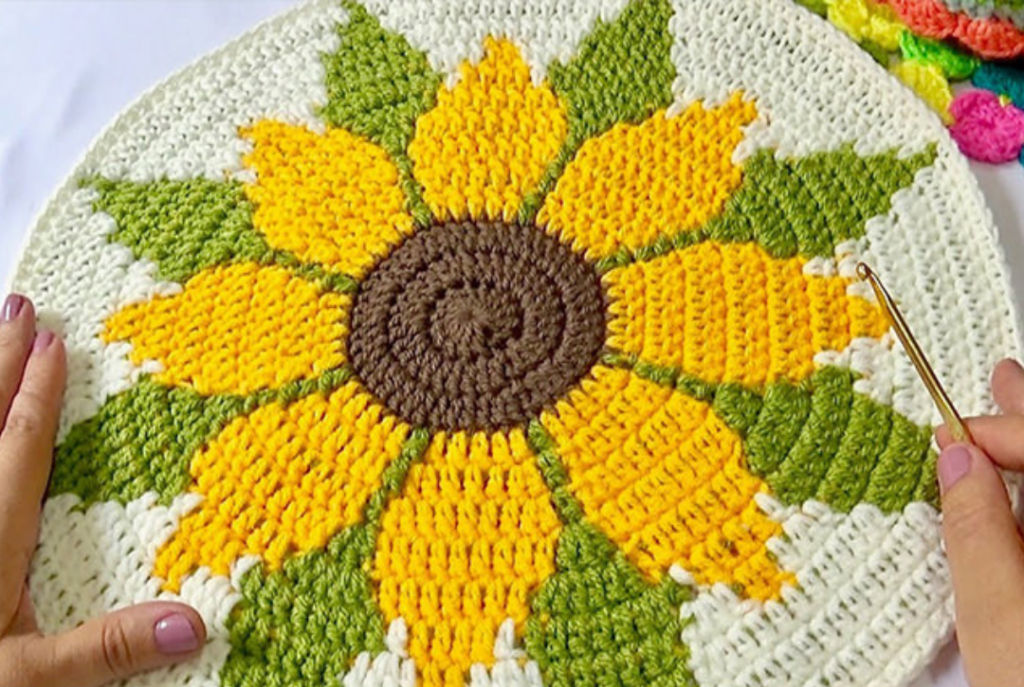 Petals:
We will work with individual petals. Start by making three chains (ch) and then make 12 double crochets (dc) inside the magic ring. To make a double crochet, insert the hook into the loop, wrap the yarn, pull it up, wrap the yarn again and pull it through all the loops on the hook. Repeat this process 11 more times to have 12 double crochets in total.
Finishing the first petal:
Close the petal with a slip stitch (sl st) on top of the first double crochet you made. Now you have the first sunflower petal!
Repeating the petals:
Repeat step 2 and 3 to make 5 more petals around the magic ring. You will have a total of 6 yellow petals.
green base:
Now it's time to start working on the green sunflower base. Switch to green yarn and make a slip stitch in the space between two yellow petals. Make 1 chain (ch) and then make 1 single crochet (sc) in the same space.
Finishing the base:
Continue making 1 single crochet in each space between the petals, until you complete the entire circle. Close the base with a slip stitch and cut the yarn.
Details:
To give the sunflower more realism, you can use the yellow thread again to make small dots in the center of the petals, simulating sunflower seeds.
Finishing:
With the tapestry needle, hide the ends of the threads that were loose throughout the work.
You have just created a beautiful crochet sunflower coaster! This charming piece can be used to decorate your dining table, serving as a bright and functional touch to your meals. Plus, you can make additional sets to gift to friends and family, showing all the love and dedication you've put into each handcrafted piece.
We hope you enjoyed this tutorial and feel motivated to continue exploring the wonderful world of crochet. Have fun creating beautiful work and remember that practice makes perfect. Now, it's time to put your skills to work and do other amazing crochet projects. Enjoy!
If you like crochet like we do here at the Crochet Step by Step blog, and would like to see even more options from other patterns, here are a few more options:
Access the complete and free pattern/ CROCHET SUNFLOWER COASTER YOU CAN MAKE EASILY
We wish all our dear readers an excellent week filled with a lot of positive energy in their homes, and above all a lot of creativity and good humor to start another beautiful crochet project.
With lots of love and affection, Cochet Step by Step!